There is a time and a place to share your opinions. You have developed your perspectives from the many experiences you have gathered throughout your life. The lessons you have learned allow you to be of service to others who may benefit from your knowledge. In order to impart this information effectively, you must first be able to listen.

"The most basic of all human needs is the need to understand and be understood. The best way to understand people is to listen to them."
~ Ralph Nichols
I am willing to bet you have never gotten into trouble for listening too much! In fact, your ability to be consciously attentive is what enables you to connect with those you love on a much deeper level. When you take the time to truly listen to whoever is speaking to you, the necessary response (if any) becomes clearer. Clarity is created for both of you when you are present for someone who needs to talk.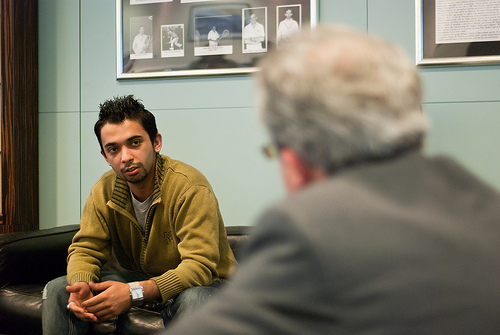 Techniques to improve listening:
Make eye contact, or if you are on the phone, turn off the TV, computer and take time out during your conversation to give your full attention.
Don't try to "read between the lines." If you aren't sure about something, ask for clarity. Curiosity can create clarity for both of you.
Let go of any judgment you may have about the conversation. See it as an opportunity to connect with another person, instead of a debate.
Listening is a skill to practice. It can be difficult at first, so go easy on yourself. Just keep practicing because if close connections are a priority for you, it is definitely something worth doing well.
Photo by: bisgovuk via: Flickr