Do you wish your family was closer? Is there a certain feeling you want to create at home? Follow three simple steps to get closer to creating the connections you want.
Most people grow up with a vision of what they want their family to look or feel like. This can be especially true for those who come from dysfunctional backgrounds. In order for someone to create relationships grounded in a healthy ideal, it is vital to have a definition based on a personal definition of happiness and success .

Ideally, a person's closest relatives provide his safest relationships. Unfortunately this is not the case for many. Due to faulty scripting, behaviors influenced by culture or relatives, many people accept negative or toxic relationship patterns because they are familiar. This lack of connection or unity at home becomes expected. It is critical to not assume that a relationship is healthy simply due to being related. Sometimes, people take for granted those to whom they are related to will accept any behavior.
"Call it a clan, call it a network, call it a tribe, call it a family. Whatever you call it, whoever you are, you need one." ~ Jane Howard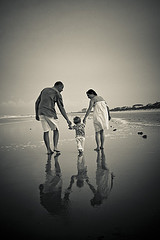 Three Tips To Improve Family Relationships
Write down a brief description of the ideal family. Focus on the emotional characteristics.
Write down a couple of positive characteristics developed from your upbringing (even if this consists of what not to do).
Write a brief description of how you want to be in the context of your family relationships, what kind of partner, parent, child, sibling, etc. Choose the relationship roles that apply to you.
No one has to accept the status quo.If you have found yourself dissatisfied with the condition of your relationships at home their are steps you can take. For anyone to believe they are unable to initiate a significant change in the way relationships are formed is tremendous self-deception. It is possible to create the family relationships you want. This process begins by focusing on who you can actually change. The one person you can change is you.